You are here:
Digital Ink - Banners for all Occasions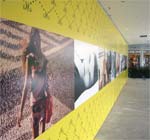 Digital Ink are Brisbane's one stop banner shop. We supply and print banners to suit every occasion, be it indoors or outdoors, for sales, to advertise specials, for building sites, events and conferences or sporting events.
We provide banners on all types of media, including PVC, Mesh, Fabric and other substrates.

Depending on your requirements, we can finish your banner to suit your specifications. This could include eyelets, rope edging, sail-track, hemming and rod pockets..
Located in Brisbane, we are well known for supplying banners throughout the South-East and all over Queensland

To find out more or to request a quote, please phone us on 0418 180 574 or email us at This e-mail address is being protected from spambots. You need JavaScript enabled to view it .