You are here:
Digital Ink - Billboard Printing Solutions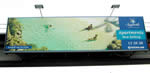 Advertise your business to the world with a billboard printed in vibrant colour. With Digital Ink's large format digital printing technology and world class colour management, you can rest assured your campaign will be off to a great start.

We are able to deliver quality billboard printing to just about any size imaginable.
For more information about how Digital Ink can bring your outdoor displays and billboards to life, call Digital Ink on 0418 180 574 or email us at This e-mail address is being protected from spambots. You need JavaScript enabled to view it .